Raysharp Video Products Certified to Comply with GDPR by TÜV Rheinland
Source:Raysharp Release Time:2018-12-18
On Dec 14th 2018, Raysharp became the first one in south of China to receive the certification towards its Video Products from TÜV Rheinland, meaning the aforementioned video products are in compliance with GDPR. Raysharp are world-class in information security and privacy protection.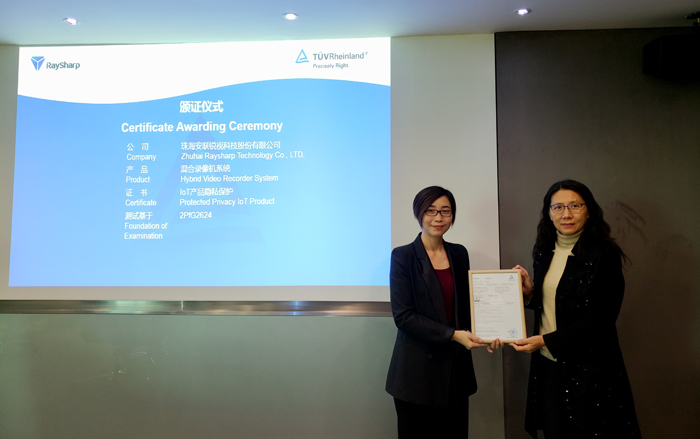 General Data Protection Regulation (GDPR), a set of new law by which the European Parliament, the Council of the European Union and the European Commission intend to strengthen and unify data protection for all individuals within the European Union," most stringent in history", will be implemented tomorrow, that is May 25th, 2018. GDPR establishes strict, high-level, wide-scope protection standards for personal data. Wherever a company is located, as long as it processes personal data of an EU citizen during the provision of products or services, it must comply with GDPR.
As the leading manufacturer of security equipment, Raysharp always pays attention to product safety. Throughout the whole process, the product always runs through the GDPR concept. The design and development follow strict safety regulations, and it has undergone rigorous testing and inspection to provide customers with information security. And reliable protection of privacy protection.
About TÜV Rheinland
An internationally renowned independent third-party testing, inspection and certification organization, TÜV Rheinland possesses over 140 years of experience, has 500 service locations in 65 countries on 5 continents, employs over 18,000 people worldwide, and provides professional service support to clients around the world. TÜV Rheinland has long been synonymous with rigorous high-quality testing and certification services and for providing a variety of professional assessments from an impartial and independent perspective. We provide local companies with quality services and solutions that comply with safety, quality, and environmental-friendly requirements.